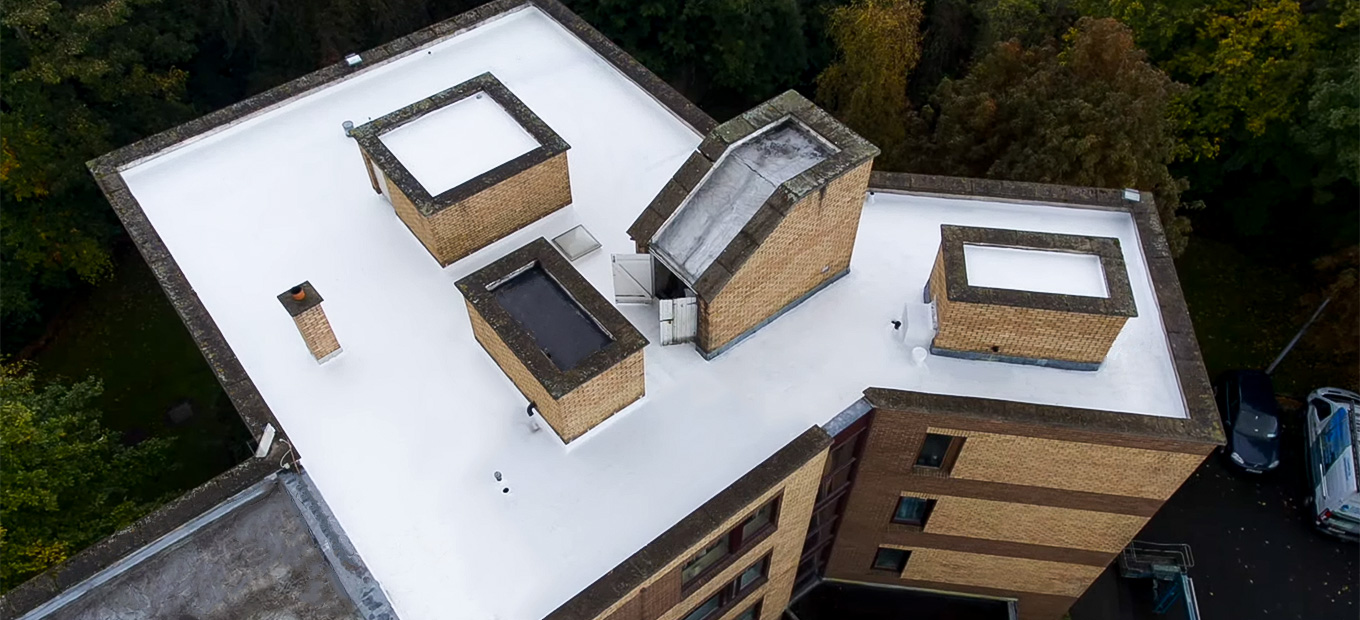 HOW TO WATERPROOF AN OLD ASPHALT ROOF?- Using Liquid Silicone Coating System
It is common knowledge that almost all traditional flat roof systems are littered with serious problems and do not perform well for long periods of time and on average need maintenance every 10 years which is our core competency.
These common flat roof problems are evident on all types of flat roof systems due to number of reasons, which we will briefly outline….

Old felt roofs - become dry over time and therefore always end up leaking due to becoming brittle & cracking (usually at the joints and seams etc)

Old Asphalt roof - Even asphalt has its fair share of problems including cracking, blistering and aligatoring from movement over time and bitumen oil bleed out.
Old Concrete Roofs – despite is solid nature concrete can become cracked and porous causing leaks etc.
Old Fibreglass – It is difficult to install correctly in an Irish climate and even when installed correctly it can easily crack or pop due to inability to expand and contract with the structure (usually timber OSB / Plywood)
Old Single Plys - (PVC, TPO & EPDM) – Single Ply can easily be installed incorrectly and leak on joints etc. it can be very hard to find a leak and even when installed correctly Single Ply can weaken over time, plasticise and become brittle
Old Metal Roofs – various problems include ordinary metal coatings fail and rust, fixings and edges etc rust and become compromised.
Old Asbestos Roofs – some problems include sheets cracking, fixing caps go missing over time and become rusted and compromised.


Don't worry… WE HAVE THE NUMBER ONE SOLUTION FOR WATERPROOFING ALL TYPES of Existing Flat & Low Pitched Roofs.
We only use the industries best flexible liquid rubber waterproofing systems that have the highest life expectancy & performance backed up with a 20 Year

Warranty – so you can rest easy without the worry of leaks, ageing / deterioration of your flat roof or any on-going roof maintenance costs.
Waterproof – in all temperatures and weather conditions

Flexible – expands and contracts with the substrate, it never Cracks!
Seamless – no joints or seams to break down
Maintenance free – no need for reflective paint or more patch repairs
Cost Effective – No need for re-roofing as we can save most existing roofs!
UV Resistant – will withstand all types of UV and reduces heat transfer and cooling costs.
Suitable for Standing Water – even flat roofs with puddles can be protected without structural changes.
Can be applied in low temperatures – perfect for the Irish climate.
Safe – no flames, no odour, no solvents, no mess & no hazards or dangers.